Seems like the wrath of social media spares no one! Not even the otherwise much liked, Ali Zafar! The talented singer turned actor recently became a victim to a social media controversy and took the internet by storm.
The actor, being a fitness buff, recently shared a very sexy image of himself with the dumbbells and the entire nation kind of went 'tharki'!
For his upcoming movie, Teefa in Trouble, the actor is geared to give his best and is set to make some serious lasting impact with his body! Be it his Sunday fitness training sessions or gymming with his brother, the actor sure is a hardcore trainer.
Let's have a look at his picture that sparked such an outrage on the internet!
The very hot and brooding Ali Zafar has definitely upped his gym game. What caused the outrage, however, is the different weight dumbells that he is lifting in his pictures.
Ali captioned the image: "Women can give us the strength that we can't. With my trainer Tania when in Lahore. Go, girl!" And as usual, the internet trollers attacked him like flies.
Many blamed him for merely showing off his muscles rather being concerned about the actual training, deeming it to be a mere publicity stunt!
Here are some of the outrageous comments: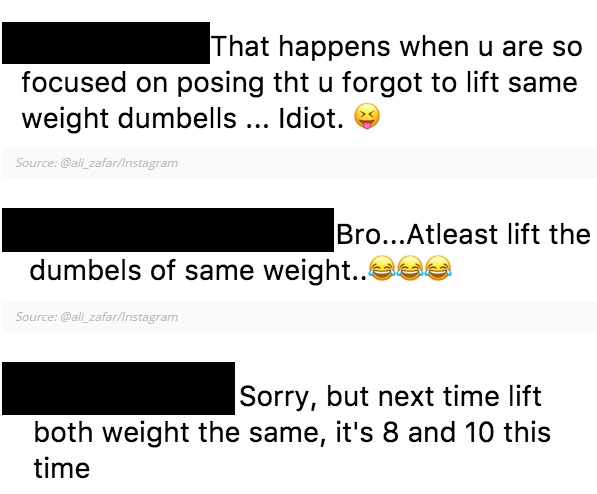 Not all of them were bad though. Ali's sultry images did awaken the 'tharki' in all of us and here is proof:
After being bullied by cyber stalkers and trollers, the Teefa in Trouble actor decided to address the controversy and hence he posted the following as a clarification on his Instagram:
It's okay, Ali. We believe you. Social media is a vicious game and not everyone can be a winner! Have anything to add to this story?
Let us know in the comments below and stay tuned to Very filmi for the latest scoops and updates!