That's right folks, the banning of Pakistani artists in India and Indian artists in Pakistan can be stopped by two people; hot and happening Fawad Khan and the 'Barbie Doll' of B-Town Katrina Kaif. This source comes from the famous Pakistani comedian Shehzad Ghias Shaikh.
Unfortunately, some Indians couldn't resist Fawad's growing popularity, his irresistible looks, charisma, and not to forget how Indian girls have already fallen head-over-heals for him. IMPPA and MNS are concerned that Khan can become the highest paid actor, give back-to-back blockbusters, and can cause trouble for local celebs.
On the other hand, to take care of this threat, they sent their secret weapon, Katrina Kaif. After all, "They (India) are the only country in the world with Katrina Kaif" says Shaikh. Indians want to take advantage of the situation, thus they decided to send Kaif to Pakistan to make amends and spread the word of peace through Maaza Ads.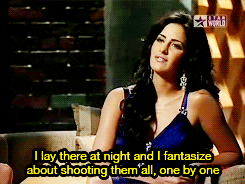 No one can imagine the pain IMPPA and MNS are going through, their girls drooling over Ali Zafar instead of Bobby Deol and ogling Imran Abbas instead of Sunny Deol; who can deny the fear of Fawad Khan taking over SRK's status of 'King Khan' in India anytime.
"India and Pakistan should share a friendlier border so that it is easier for Sania Mirza to travel back and forth between her sasural and maika. Maybe that way, Shoaib Malik might also get a chance to play a little cricket while Sania is away visiting her parents" Shaikh added.
The die-hard female fans in India and mango lovers of Pakistan wish to see a peace treaty between the two, soon.
Stay tuned for more news and updates.