For many of his female fans in Pakistan, Feroze Khan epitomises a modern-day debonair of Prince Charming.
He is utterly good-looking, complete with his piercing gaze, chiseled features, and heart-skipping smile. Over the past couple of years, his acting trysts have declared him as one of Pakistan's most sexy and romantic hero.
With his role as Mir Hadi, the supervillain-turned-antihero-turned-romantic lover, in Khaani, Feroze has floored the nation yet again.
So much so, he has become the absolute crush fodder for women all over the country.
And girls are drooling over the star left, right and center!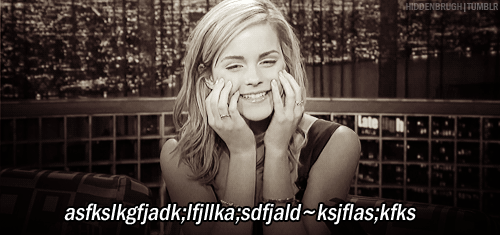 One such Jabra fangirl of the actor took to the popular Facebook group, Soul Sisters Pakistan to reveal her burning desire to meet the dreamboat!
Apparently, she came to Karachi from Dubai for ten days and is determined to meet her idol hook or by crook!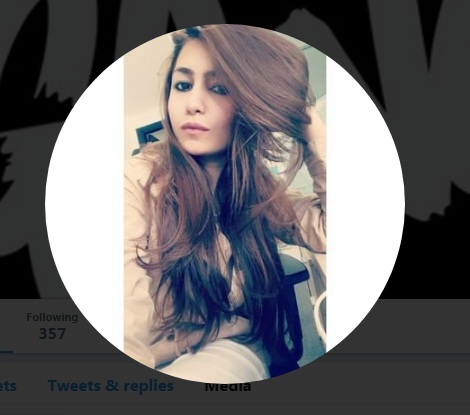 CHECK OUT SHE WROTE IN THIS ADORABLE NOTE TO HER SOUL SISTERS!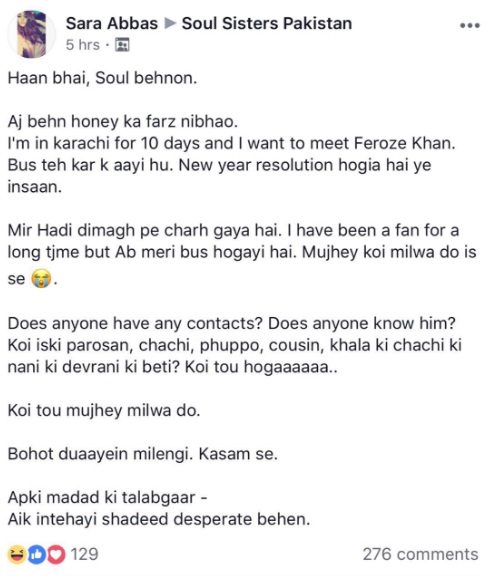 The crazed fan is desperately hoping for a lifetime opportunity to hang out with the icon. And guess what? Sara's wildest dream seems to be on its way to fulfillment.
EVENTUALLY, HER  POST REACHED FEROZE KHAN! WELL, THAT'S THE POWER OF SSP!

AND NOW TWITTER IS URGING KHAN TO MAKE HIS FAN'S WILDEST DREAM COME TRUE!
Plan a meet up with fans ♥ cuz' I think everyone out there watching khaani will be desperate definitely for meeting you ♥♥ so c'mon let's make this happen kind soul ♥♥

— Zainab Khan (@Zaynngiirll) January 9, 2018
SARA ALSO POPPED ONTO THE THREAD TO ENCOURAGE HER MCSTEAMY TO MEET HER!
Meet her. Maybe. @ferozekhaan

— Sara Abbas (@SaraLogang) January 9, 2018
FK'S FANDOM HAS UNITED TO SUPPORT SARA IN HER MISSION!
OH MY GOSH! LOL. Okay, this is kinda cute. You should definitely seek her out and meet her!

— turniphead. (@fariyasays) January 9, 2018
WELL, MIR HADI HAS DEFINITELY MADE ALL THE LADIES GO GAGA OVER HIM!
Hahaha this is insane…but not more than the insanity of Mir Hadi ??….mil lo bichari se

— Yashal Jalil (@DrYashal) January 9, 2018
SOME 'JEALOUS PHUPPOS' ARE BASHING SARA AND CALLING HER CRAZY!
I'm pretty decent. And this was a closed group post to a group of friendly ladies. It got viral, and a bunch of desi phuppos like yourself are judging me now.

— Sara Abbas (@SaraLogang) January 9, 2018
Well, its time for Khan to give back to his fans and such die-hard admirers are hard to find.
Feroze Khan if you are reading this, why not hold a meet and greet for all your devotees! Cool idea, no?
Originally published on Brandsynario
Contributed by Ghazala Sulaiman