Our favorite Pakistani actress, Saboor Aly turned 27 yesterday. Honestly, after the heart-wrenching news of Sri Devi's death we're sure all of us were disheartened and needed something to cheer us up. This is why, Hania Aamir's surprise to Saboor is the only thing we are looking forward to share with you!
Hania Aamir is one of Saboor's closest friends and since it was her friend's birthday, Hania threw her a grand surprise which was totally unexpected.
Wow. This is one of those moments when you just can't resist to lift your bestie up in excitement. Hania's strength is no wonder surprising. Kudos to her and her trainer!
Anyway , coming back to Saboor's birthday it was undoubtedly a grand affair.
Many celebrities attended Saboor's birthday bash Aly celebrated her birthday with. In fact, there are quite a number of celebrities who wished the actress happy birthday and she looked the most gorgeous one of them all.
Her other close friends included Sadaf Kanwal who showered her with kisses. Aww!
Sadia Ghaffar's brother Zeeshan Kazmi was also in the wonderfully themed party.
Amar Khan looked fabulous in black and even though it doesn't look like there was a particular theme to the party, she definitely nailed the theme with her outfit.

Umair Qazi was also one of the people of attended Saboor Aly's birthday. Even if it's causal clothing, he definitely looks as amazing!
Hassan Hayat Khan rocked the place with her cheerful smile!
Maliha Rizvi was also one of the closest people to the Pakistani actress who effortlessly decorated the night with her beauty.
This event was definitelya mood-lifer and we couldn't be more happy for her. Happy birthday, Saboor and we hope you get more success in your career.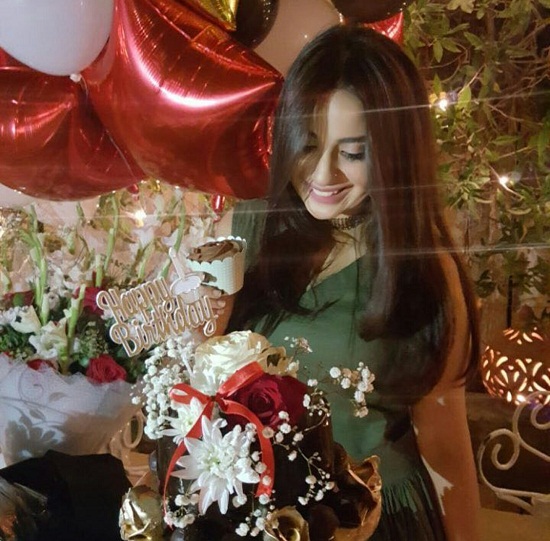 Stay beautiful, Saboor Aly!
Stay tuned to Very Filmi for more updates!