How many times can one celebrity be trolled or slammed by the public on the things the masses find unethical? Well, Hira Mani has always been under the limelight of garnering the attention of whether positive or negative and this time yet again, the starlet has received negative comments from people.
The popular duo from Do Bol, Hira Mani, and Affan Waheed is working again in the ARY Digital's drama serial Ghalti and Hira Mani shared experience the masses where she told everyone how she used a bedsheet from her wedding night on the show.
The actress shared, "Saba mentioned that we'd like a formal bedsheet on your wedding night scene and I mentioned that I've my own bedsheet from my actual wedding, so can I carry that and Saba immediately mentioned, sure."
"Saba is so sweet that I can do anything for her," she continued. "Now it is my wedding scene and I sat on my bedsheet of around 12 years ago. During a shoot with Affan, I said to him that this my wedding bedsheet sheet which we used when I got married to Mani and now you are my groom." She concluded.
Watch the full video here:
However, people were quick and began to slam the actress
The usual laughing and swearing occurred


The haters really gave it to her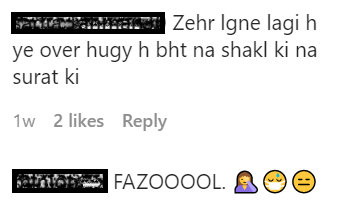 And it continued


Stay tuned to VeryFilmi for the latest news and updates!