This year, amid the coronavirus pandemic, Pakistanis couldn't celebrate Pakistan Resolution Day, which is every year on the 23rd of March. As the lockdown had been announced in different cities of Pakistan, many Pakistan Day events, airshows and parades were canceled to avoid large gatherings in order to stop the spread of coronavirus.
So here's how Pakistani decided to celebrate it!
They decided to sing Pakistan's national anthem in their balconies, rooftops and terrace to show their patriotism for Pakistan during this tough time. Many of our celebrities along with their families also went live to show their love for this beloved nation.
However, what really broke our hearts was singer Komal Rizvi's live stream on Instagram where she was singing the national anthem. Komal Rizvi, while singing the national anthem, broke down into tears keeping in mind the current situation of the world, and mostly, Pakistan.
In the video, she mentioned that she went live earlier but couldn't sing because she got emotional and teared up. So, this was her 2nd attempt.
Here's Komal Rizvi's video!
And here's what she wrote in the caption:
"National Anthem. Please do it with me
May the country be strong and well and united. Always."
She requested her fans and followers to join her while she sang the national anthem. Absolutely sweet of her to bring out the emotions!
People appreciated her efforts and showed their utmost support. Some even requested her not to cry!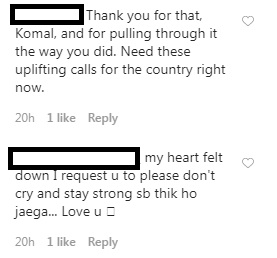 What do you think of Komal Rizvi's video? Let us know in the comment below!
Stay tuned to VeryFilmi for the latest news and updates.