Once again another result of the Pak-India tension has started to brew in Bollywood once again, this time, one of the most awaited movies, Raees, featuring the King of Bollywood, Shah Rukh Khan, and the gorgeous diva from Lollywood, Mahira Khan.
According to sources, filmmakers have decided to remove scenes of Mahira Khan in the gangster flick to avoid any future tensions that can cause further delays and dilemmas to the movie's release.
A behind the scene shot has surfaced on media showing both the King and Queen of the industry riding in a vehicle, and Mahira can be seen holding a baby while trying to cover its face from the sunlight as she looks towards SRK. Earlier, when the Humsafar star was in India, she had recorded two romantic songs and a romantic scene across border with SRK.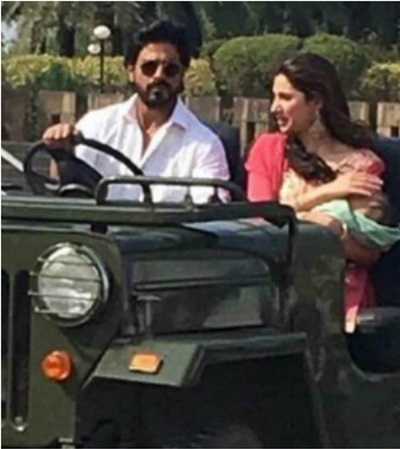 "She does play Shah Rukh's love interest, it is not really a romantic film," told a source to Mumbai Mirror.
"This one revolves around the conflict between Shah Rukh Khan who plays a bootlegger, Raees Alam, and ACP Ghulam Patel enacted by Nawaz (Nawazuddin Siddiqui) who is on his trail. So, it wasn't difficult to trim her role which has been done with the intention of not hurting public sentiment," informed the source.
Unfortunately, looks like Queen Khan is suffering from the same fate as Imran Abbas and Fawad Khan who had been previous victims of a similar story, not to forget Ali Zafar who was also treated unfairly with his talent in Dear Zindagi.
Stay tuned for more news and updates!