Lux Style Awards (LSA) had sparked a massive uproar ever since its nomination list was revealed for the year.
Various luminaries protested against their projects being neglected, the rest protested against not bagging enough nominations and some raised their voice against sexual harassers.
Iqra Aziz Schools Twitterrati Over Insensitive Comment On Abuse
Popular model, Eman Suleman was the first to reject her nomination in solidarity with victims of harassment.
This week, one of Pakistan's coveted fashion label, Generation and makeup artist, Saima Bargfrede have declared their disassociation from LSA 2019 nominations.
Moreover, Meesha Shafi also requested LSA to remove her song 'Mein' from the nomination list.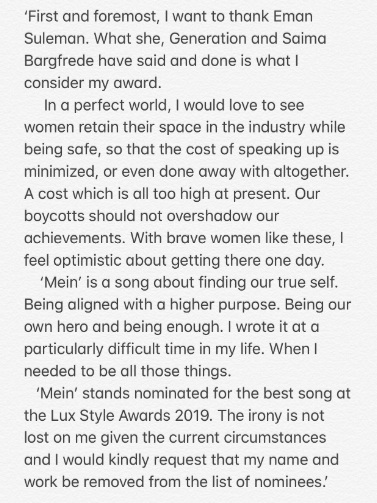 Thanking Eman Suleman, Generation, and Saima Bargfrede, Meesha explained the vision behind her empowering track and cited the reason for rejecting her nomination.
To all concerned. #LSA2019 🙏🏼 pic.twitter.com/nfoHUlTf4W

— MEESHA SHAFI (@itsmeeshashafi) April 23, 2019
Now, the PR mogul Frieha Altaf also raised her voice to show solidarity with sexual harassment victims. She took to her social media accounts and said that if anyone should step down, it's the alleged sexual harasser.
Have a look at the post below! 
Another famous model Rubab Ali also requested to withdraw her nomination. She wrote:
Shafi's tweet is bound to spark a massive discussion on social media. Ali Zafar and Meesha Shafi's sexual harassment controversy has been in the news for quite some time now. The court, however, is yet to announce its verdict.
What do you think about Meesha Shafi's move? Let us know in the comments below.
The post was first published on Brandsynario.