So yesterday was Khaani day. Mondays are all about Khaani these days. Fans can't help but obsess about this show. As soon as episode 6 went on air, social media started flooding with comments on Feroze Khan's obsessive character and Sana Javed's powerful acting.
Last night's episode was all about obsession, power, and survival. The power obviously belongs to the Mirs, but its Mir Hadi's obsession that is now driving him crazy. He's confused, why a girl who seems so weak can stand up against him with such confidence.  Khaani's bravery has confused and impressed Mir Hadi, simultaneously.
The drama is now picking up pace and each and every character is doing justice to their roles with their impeccable performances. Episode 6 was great but you know what was the cherry on top of it? The promo for episode 7. Fans lost it was they saw Mir Hadi finally confessing his love to Khaani in the teaser.
To him it seems love, to us, it seems his obsession, but whatever it is … fans couldn't control their excitement.
Here's the scene in all its glory.
Here's how people commented after watching the promo for episode 7.
'Pyaar karta hoon tumse, pasand ho tum mujhe' ??OMG I CANT WAIT FOR NEXT WEEK. PLEASE SHIT OMG NEXT MONDAY COME SOON PLEEEEASE MIR HADI IS IN LOVE WITH KHAANI♥️♥️YAYAYAAYAYYY!!!! THE PRECAP OMG?♥️#Khaani@ferozekhaan@RealSanaJavedpic.twitter.com/HfkDW2gjYF

— hayaa? (@hayavikram) December 11, 2017
Episode 7 plzzz come soon. Mir Hadi confesses his love for Khaani. His way of expressing love is even different. It seems as if he is imposing love on her. #Ferozekhan we can expect such surprising acts only from you. Good job ???. #Khaani pic.twitter.com/hBn58AAeAy

— M.yar (@Muhamma26873373) December 11, 2017
NEXT PROMO!!!! I'M SCREAMING #Khaani

— RIMSHA (@abidrimsha64) December 11, 2017
#Khaani
waiting for episode 7 already ?

— Ha-ph-ca (@Syeda_Hafsah) December 11, 2017
Fans are speculating what will happen next.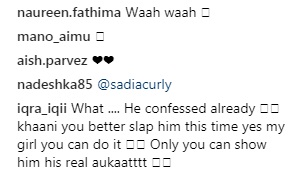 They really want Khaani to slap him.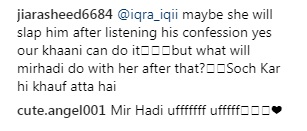 Like really, really want Mir Hadi to be slapped.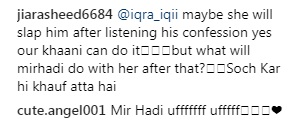 There were other fans who couldn't help but praise how good and addictive this show is.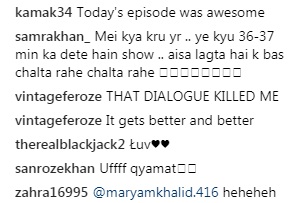 To be honest, we also can't wait for the next episode.
Watch Khaani on Mondays at 8:00 PM on GEO TV.