Adoption is not something that is considered a good option in Pakistan by many conservative and even modern families. In fact, it's considered as an embarrassment, only because these children might not be of their caste, skin or status. Then again, the couples that do try to defy the odds are seen with judgmental eyes in our society for not producing their own blood.
Let's be honest, how many of you are actually willing to adopt a child off the streets? No, right? However, children rights activist and famous actress Nadia Jamil disagrees. In fact, she has taken an amazing initiative by adopting two brilliant young boys off the chains of labor and into her warm home. Of course, this isn't easy if you're famous and the world tries to find even the slightest excuse to cloud your name with within hours. Then again, she doesn't seem to care.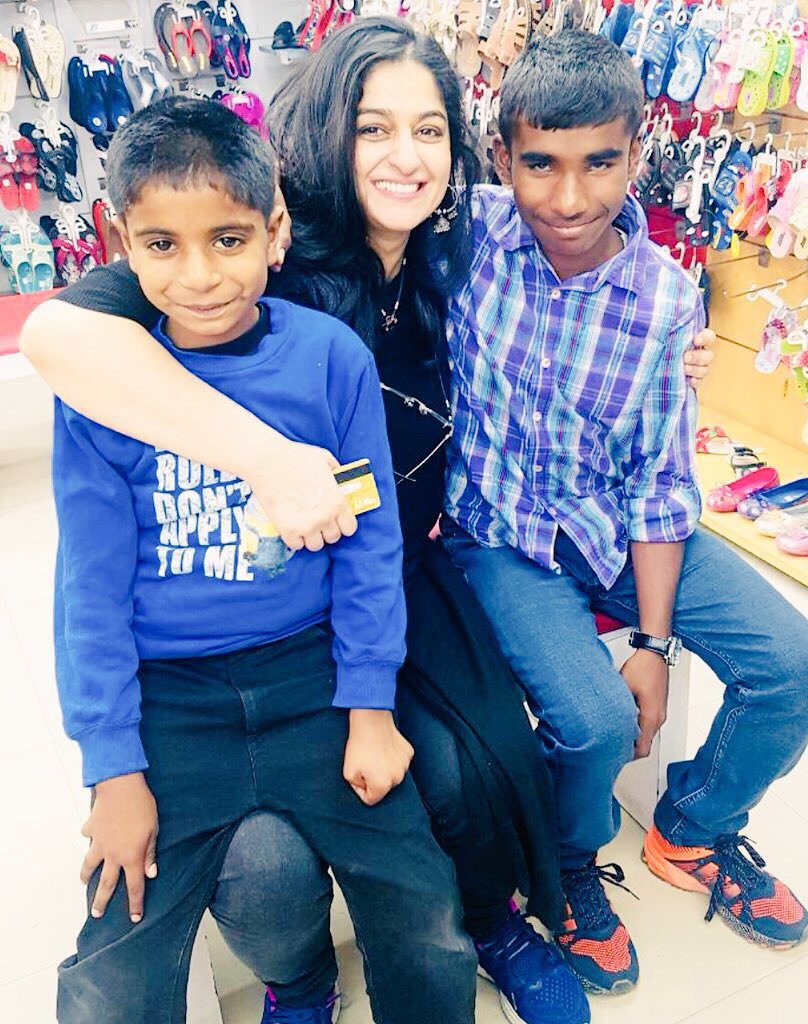 Nadia has adopted two kids. Her younger son was previously a street child who was brutally stabbed and burned and the elder son was a slave at a brick kiln. Neither of them were in a state to speak when she found them.
As soon as she saw them, she decided that she would provide them a warm home where they would be given their basic rights. Thus, because of her adoption, they are now very cheerful and happy kids. Aww!
Tomorrow I leave for Cambridge again. A heavy heart leaves behind my home here,my family,my pets,my friends but most of all my 2 sons. My 2 beautiful gifts from Allah. Sabir & Azaad. Please pray for their happiness & success in life. They are strong. MA. But they are children🙏🙏 pic.twitter.com/gSW1xGaL3w

— Nadia Jamil (@NJLahori) February 25, 2018
Nadia still works to fight these issues on our country by raising awareness. After she told everyone the story, many people broke into tears and encouraged her kind efforts on Twitter.
Allah Pak apko hamesha khush rkahy Ameen Sum Ameen

— Rab Nawaz (@RabNawa34302199) February 22, 2018
You are such a beautiful lady from your heart..May Allah bess you and your loved ones forever..Respect!!

— Girish (@Saneinsanepics) February 22, 2018
Allah Pak Kush Rakhe Salamat Rakhe

— Maher Baloch (@maher_iam) February 22, 2018
Fans from all the over the world sent their love and prayers to the family.
MashaAllah these two are jewels in the hands of a queen. 💎 👸 💎

— zain (@zainss) February 22, 2018
This gives me faith for humanity. Truly heartwarming. May the Lord almighty bless you always.

— Nadia Bukhari (@NadiaBukhariUCL) February 22, 2018
A happy family doesn't need to share the same blood, they need love and respect. Happy adoption!
Three of my four. Lazy Miru, Stoic Sabir, and my chipmunk Azaad.
2 Cool 4 Us Teen locked in his room 😬

Cant believe this strong, quietly confident Sabir is the same frightened baby I picked up from a brick kiln, & my naughty over confident happy chipmunk Azaad once had no voice pic.twitter.com/QYR7TBe7aT

— Nadia Jamil (@NJLahori) February 25, 2018
Stay tuned to Very Filmi for more updates!