The past few months were not exactly the best for Pakistani influencers be it TV star/singer Mohsin Abas Haider, Youtuber Ukhano, or cricket sensation Imam ul Haq.
Harassment, domestic violence, and cheating were recurrent themes.
Then came more political issues like that of occupied Kashmir, and influencers like Irfan Junejo came under the fire for not openly speaking up on it.
Over the weekend, another popular Pakistani influencer, Mooroo came under the spotlight when filmmaker Fazeelat Aslam took to her instagram account to post evidence that shows the YouTuber as a harasser.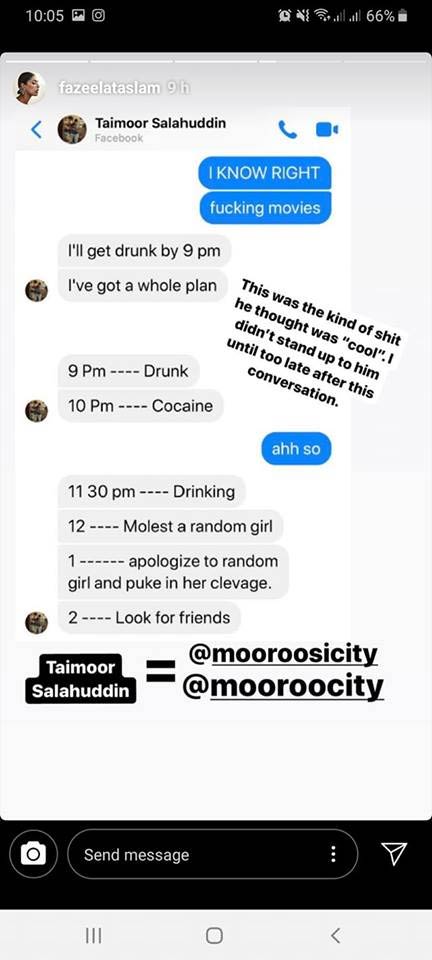 A Pakistani YouTuber, rapper, and musician, Mooroo has found himself in the eye of social media storms earlier as well, but that was always because of opinions/statements he, himself would say or post.
This time, the evidence is from a third person in the form of screenshots.
Take a look at what social media has to say about this revelation:
One reason Mooroo has always supported and spoken up for sexual harrasers; Ukhano and Junaid akram is because he knew his truth was going to come out one day and he will need all the support from his harraser friends for his boat to keep afloat.
Fuck
you
Mooroo pic.twitter.com/hMM5qNN9Q3

— Arya Stark (@desikhaleesii) September 29, 2019
One's a sexual harasser, and Mooroo ka toh aside from all his other assholery, this has happened: https://t.co/iDUuuNwsmx

— Tony Khan (@marketingdude) September 22, 2019
Ugh!!!! Mooroo bhiiii🤦🏻‍♀️🤦🏻‍♀️🤦🏻‍♀️🤦🏻‍♀️🤦🏻‍♀️ like his work for some reasons but never felt any good for him when he used to make disgusting jokes. 😒

— حادیہ🌸 (@DrHJKhan) September 29, 2019
While some are shocked, others already saw it coming due to his problematic ideas in the past and later he even defended his statements.
However, perhaps it is high time Mooroo understands that not everything will pass in the name of humor.
What do you think? Let us know in the comments!
Stay tuned to Very Filmi for more news and updates.
The article was first published on Brandsynario.