Salman Khan has never shied away to show his love and devotion towards Pakistan!
Despite cross-border tensions between both the neighbors, the Dabangg hero has remained his stance on maintaining peace!
Countless times in his various interviews, Khan has supported our nation and even condemned the ban on Pakistani stars working in India.
However, his pro-Pakistani statements and views always drew ire from Indian critics who label him a 'traitor' for promoting talent from Pakistan in his movie.
Recently, Salman has found himself in the eye of a social media storm for replacing Arijit Singh with Rahat Fateh Ali Khan in  'Welcome To New York'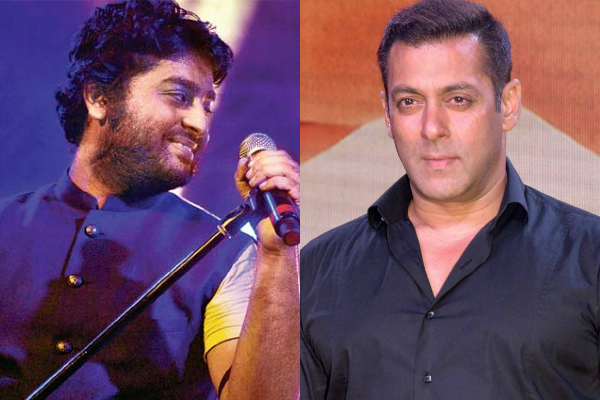 Over years, there has been a rumored cold war between the Tubelight star, and the singer. It is said it was Salman that led to the removal of Arijit's already recorded songs from movies like Prem Ratan Dhan Payo, Tubelight, and Kick.
The tussle has now been revived with a new song in Welcome To New York. Sallu Bhai has ordered that Rahat Fateh Ali Khan should sing the tune instead of Singh
There is an outpour of hate on Indian twitter over Salman Khan regarding the matter!
Not entire bollywood but some people like @BeingSalmanKhan , Amir Khan, Srk whi are more loyal to pakistani artiste than indian.
This salman removed arijit to take atif aslam. Shows their love to pak not india .

— TamasomaJyotirgamaya (@Tamasomaa) February 19, 2018
Arijit ki sucess dekha nhi jaata salman se….ego par kayam h salman….agar Arijit ko gaana de diya to ego ka kya…

— Bishwajit Mondal (@Bishwaj73279946) February 19, 2018
Mr.khan..do your neighbouring country also promotes Indian talent…downfall you alsoface oneday…"Why Pakistan's Atif Aslam Got Salman Khan's 'Dil Diya Gallan' When India's Arijit Singh Could Have Done A Better Job?" Questions Babul Supriyo https://t.co/COJEdlQQKr

— Bhagyahh Anil (@bhagyahhanil) February 19, 2018
Angry fans are even abusing Salman Khan for harboring a soft corner for Pakistanis
This salman-arijit-atif drama is so fucking stupid i swear, and it all started because a grown ass man who possesses a mind of a ten year old kid couldn't take a fucking joke, and held a grudge for over 4 years. can you actually believe this shit lmao

— ☄ (@gilithiel) February 19, 2018
"Why Pakistan's Atif Aslam Got #SalmanKhan 'Dil Diya Gallan' When India's Arijit Singh Could Have Done A Better Job?"
Is it Pakistan Prem? https://t.co/alnW6aRuW0

— Alok Katiyar🇮🇳(PartTimer) (@kattu_ak) February 18, 2018
i dont undrsnnd why sme pple say call salman khan a giving and kind person…he is arrogant in reality although arijit apolozized he didny respect but arijit doesnt need salman for making songs hit but salman khan is being over bcz of his cameo he replaced arijit s song😠😠😠

— manish (@manish80808246) February 19, 2018
Another #ArijitSingh Song Was Replaced By #SalmanKhan From The Movie…#WelcomeToNewYork..

Song Name #Ishtehaar Composed By Shamir Tandon And Penned By Charanjeet Charan Was Sung By #ArijitSingh .

But Now It Is Sung By #RahatFatehAliKhan 😔

If this is true than Salamn *&#₹😡

— Neeraj Karan ❤️❤️ (@neerajkarncool) February 18, 2018
Earlier in an interview, popular Indian singer Babul Supriyo bashed Salman Khan for his preference of Pakistani artists over those of his own nation.
"I am also not sure why Atif got to sing Dil Diya Gallan when Arijit could have done a much better job. The FM stations played the song galore, while news channels announced the name of our soldiers martyred by Pakistan-sponsored terrorists"
Well, Supriyo is clearly jealous! Clearly, Pakistani singers have put him out of business and he is unhappy about it.
Originally published on Brandsynario.
Contributed by: Ghazala Sulaiman